| | | |
| --- | --- | --- |
| " | Travelers from four war-torn kingdoms congregate at the edge of a fearsome storm, following a divine invitation emanating from deep within the Ethersea. | " |
—MaxFun Summary

Ethersea is the sixth and current campaign of The Adventure Zone, and the fourth primary season of the show.
Premise
[
]
Travelers from four war-torn kingdoms - the Hominine, the Einarr, the Southern Archipelago, and the Delmer - congregate at the edge of a fearsome storm, following a divine invitation emanating from deep within the Ethersea.
The first five episodes of the season form a Prologue, detailing the the events leading up to the formation of the city of Founders' Wake in the face of the oncoming storm. These episodes were played using The Quiet Year, a worldbuilding and map-making game by Avery Alder. The maps created by the boys in those episodes can be viewed here.
The subsequent episodes of Ethersea are played using a homebrewed Dungeons and Dragons 5e system, informed by the events of the prologue.
Characters
[
]
Player Characters
[
]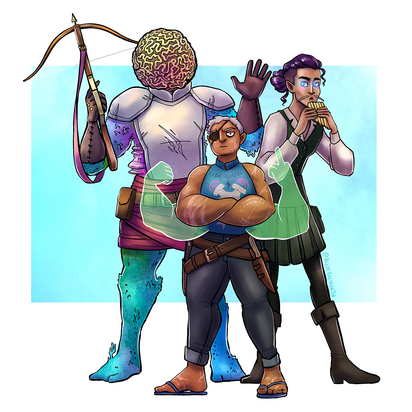 NPCs
[
]
Major NPCs
[
]
Prologue NPCs
[
]
Campaign NPCs
[
]
Beck

Skittles

Hand of Guidance
Minor NPCs
[
]
Chauncey
Emery
The Cobalt Star
Eko
Antagonists
[
]
Guthrie
Benefactor Orlean
"The Red Squares"
Ships
[
]
The Biggest Baby

Dreams of Deborah

The Gut Punch
Rules of Ethersea
[
]
Everybody's got a knife.
There's a hole for that.
Urchin is never where you need him to be.
Skunknuts Wine goes through you like an ape.
Arcs
[
]
Prologue
[
]
The gang plays the Quiet Year and builds the world of Ethersea.
The Gallery Job
[
]
The gang tries to get a job with the Blue Span Contractors
Title
Air Date
Link
Runtime
Ethersea – Episode 1
July 8, 2021
Listen
1:25:55
A Finner, an Orator, and a Brinarr walk into a bar. Well, first they walk into a job interview, and it doesn't go so great, so THEN they walk into a bar.
Ethersea – Episode 2
July 22, 2021
Listen
1:01:40
Three prospective contractors for the Bluespan Brokerage embark on their first, questionable voyage in the waters surrounding Founder's Wake. A lucrative, outrageously spicy opportunity presents itself along the way.
Ethersea – Episode 3
August 5, 2021
Listen
1:28:07
The Gallery Job: Part Three A brief diversion during their first undersea voyage has proven to be far more arduous (and far more dangerous) than our heroes initially expected. A race for the prize breaks out with a new, well-armed competitor.
Ethersea – Episode 4
August 12, 2021
Listen
1:10:21
As one crisis interrupts another, the Dreams of Deborah's plucky crew must weigh their priorities. A Brinarr precariously teeters on the brink of death.
Ethersea – Episode 5
August 19, 2021
Listen
1:16:50
Our three intrepid Etherseafarers have survived their first gig, though, boy howdy, it was a close one. With Lux in hand, they go shopping for a gently used ship to call home.
Undersea Interlude 1
[
]
Title
Air Date
Link
Runtime

Ethersea – Episode 6

August 26, 2021
Listen
1:00:01
Our heroes take their new ship to a VERY familiar aftermarket vendor, tacking on a few much-needed improvements. We spend a bit of time talking character classes, and finally come up with a name for the crew's new vessel!
The Infinite Clam
[
]
The gang is hired by the Benevolent parish to track down a missing Benefactor Orlean.
Title
Air Date
Link
Runtime

Ethersea – Episode 7

September 2, 2021
Listen
1:11:11
The newly employed crew of the Coriolis take on their first official job with the Bluespan Brokerage. Devo confronts his past as he crosses paths with the leaders of the Benevolent Parish.

Ethersea – Episode 8

September 9, 2021
Listen
1:05:10
The Coriolis is visited by an inscrutable little guy whose name definitely does not appear on the manifest. They reach their destination in the Phytal Flats, and then things go very south, very quickly.

Ethersea – Episode 9

September 16, 2021
Listen
1:11:57
The heroes fend off a curious lionfish while getting their bearings within a curious bivalve. A slapdash infiltration brings them face-to-face with the Super Captain. We all love the Super Captain!

Ethersea – Episode 10

September 30, 2021
Listen
1:05:49
A surprising revelation about their enlarged environment sends Amber on a trip down memory lane. Unstable energies further discombobulate the Coriolis crew's sense of scale.

Ethersea – Episode 11

October 7, 2021
Listen
1:02:30
The crew of the Coriolis approach the anomaly that has trapped them in their current bivalve environ. Amber takes a dive. Devo exercises surprising restraint. Zoox experiences a metaphysical identity crisis.

Ethersea – Episode 12

October 14, 2021
Listen
1:04:57
Amber, Devo and Zoox face off against foes both tangible and cerebral, within and without, ancient and new. The Infinite Clam's power is harnessed at great cost.
Undersea Interlude 2
[
]
Title
Air Date
Link
Runtime

Ethersea – Episode 13

October 21, 2021
Listen
1:01:40
With their first proper mission under their belt, the crew of the Coriolis attempt a series of negotiations with mixed results. A night at the Cloaca forges new friendships, while morning at the Gills forges new ... enemyships.
The Abyssal Auction
[
]
The gang is hired by Ol' Joshy to attend a clandestine auction.
Title
Air Date
Link
Runtime

Ethersea – Episode 14

October 28, 2021
Listen
53:41
The crew of the Coriolis take on a new mission, one that exchanges the slimy hazards of enormous mollusks for the slimy hazards of good old-fashioned capitalism. Let's have a money fight!

Ethersea – Episode 15

November 4, 2021
Listen
1:20:50
After an unfortunate journey, the Coriolis arrives at a fancy, clandestine deep sea auction house. Time to do what exactly one-third of this party is good at: Shmoozing the room.

Ethersea – Episode 16

November 11, 2021
Listen
1:00:24
Let the money fight commence! As our turquoise heroes bid to claim their quarry, their opponents move against them, mostly because of the many terrible impressions they made in the previous episode.

Ethersea – Episode 17

November 18, 2021
Listen
56:28
Following a tense exchange of money and merchandise, all heck has broken loose. Can the auction's bidders survive an assault from within — and without?

Ethersea – Episode 18

November 25, 2021
Listen
1:13:14
The Coriolis crew collect their winnings — among other things — and begin their extraction from a doomed deep sea marketplace. A slight complication: The deep sea marketplace is trying to doom them as well.

Ethersea – Episode 19

December 2, 2021
Listen
57:33
With the auction house's security systems thwarted, the facility's survivors attempt a hasty retreat. Zoox does what Zoox does best: Networking with unidentified, dangerous sea life.
Undersea Interlude 3
[
]
Title
Air Date
Link
Runtime

Ethersea – Episode 20

December 9, 2021
Listen
59:15
The crew of the Coriolis returns from another pseudo-successful mission to gather up their earnings. Unknown collateral damage surfaces, and initiates a series of most unfortunate events.

Ethersea – Episode 21

December 16, 2021
Listen
1:16:35
Zoox, Devo and Amber take care of some personal business before the start of their next mission. Zoox learns about his birthday. Amber catches up with an old friend. Devo secures an unexpected modeling contract.